Midea Awarded By United Nations Industrial Development Organization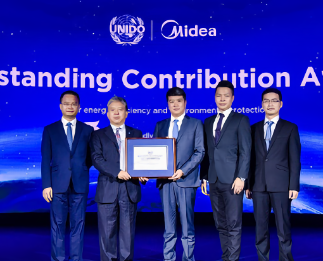 16 October 2020 - Midea was awarded by the UNIDO (United Nations Industrial Development Organization) for its outstanding contribution in environmental protection.
Over the past 10 years, Midea has cooperated with UNIDO on a project aiming at replacing HCFC-22, an environmentally harmful refrigerant, with propane (R-290), a natural substance, which contributes both directly and indirectly to the international community's fight against climate change.
Midea's project of developing, producing and distributing products powered by such a system has phased out 13.2 tons of ozone-depleting potential and reduced 967,490 tons of CO2 equivalent emission per year, according to data from UNIDO.
Ole Nielsen, Chief of Montreal Protocol Division's Environment Department, who was due to COVID-19 unable to attend the Midea Residential Air-Conditionings Global Partner Conference 2020 under the credo 'WE ARE ONE', joined the celebration online. On-site the entire team celebrated with an impressive lighting show on the world's tallest building Burj Khalifa.
Midea has proven its commitment of solving environmental problems and making the world a better place also last year when the brand was rewarded with the Blue Angel.
Posted: 17.10.2020